Bolt Tensioning and Torquing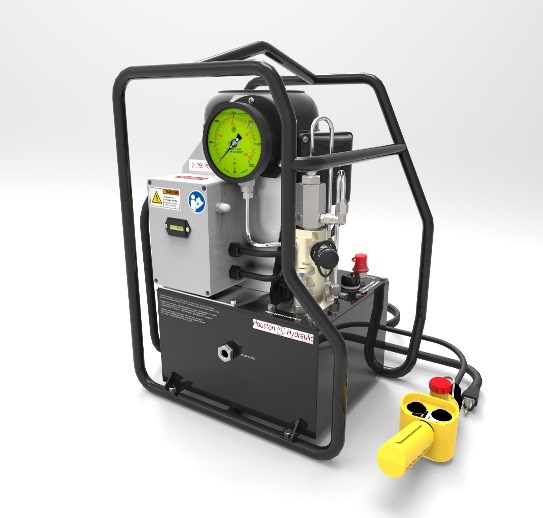 Electric Hydraulic Bolt Tensioning Pumps


Stratus: Designed for the punishing conditions and demanding requirements of Wind Turbine bolt tensioning. Extreme temperatures. Rough handling. Low voltage. Dust and dirt. High duty cycles. These are just a few of the challenges that an Electric Tensioner Pump must overcome.

Safety: Low voltage hand pendant control circuit. Emergency Stop on pendant.

Reliability: Robust industrial electric motor handles heat and low voltage challenges typically found on the West Texas wind farms. Every unit is subjected to rigorous cycle testing to verify performance and reliability. Advanced Filtration designed to protect hydraulics.

Durability: Stratus comes with a protective frame as a standard feature. Hydraulic circuit
designed for a long system life and less heat generation.

Usability: Compact Size and Low Weight.

Operator Controls designed to deliver higher efficiency for bolting operations.

Speed: More Horsepower means More Flow at Working Pressure.
Intensifier Modules: Truck Mounted Bolt Torquing Power Systems
Intensifier Modules for applications such as Torque Wrench bolting integrate into the existing truck or trailer low pressure system to provide a new capability. Ideal for use in wellhead service trucks and rig hydraulics.
Truck and trailer mounted Intensifier Modules overcome many of the challenges inherent in portable power packs. Air driven pumps often don't deliver the speed that is required for the job as space constraints in mobile environments lead to undersized air compressor tanks.
Similarly, electric pumps have their own power limitations. Intensifier Modules typically deliver more than 2-1/2 times the horsepower of leading electric torque wrench pumps, and also enjoy the cooling advantages provided by the primary hydraulic system.
Portable power packs face more wear and tear than an Intensifier Module mounted securely on a truck.
Bolt tensioning units by miniBOOSTER, both portable and for permanent mount, are also available.